Professional Development
Staff training can be provided on site or through our DVD training series. Workshops are interactive, fast paced, and filled with practical information that can be easily implemented on a school campus. For more information on training related to bullying prevention and intervention, violence prevention, student safety, harassment, or school security, contact us.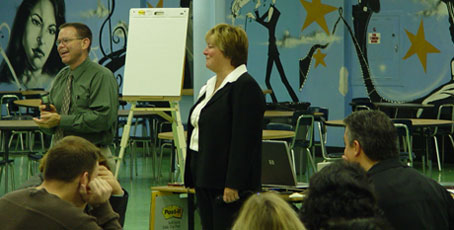 Services
In the past, many aspects of a school were not planned with safety and security in mind. School safety audits are one means of assessing the components in place and the necessary improvements needed to ensure that a school is, in fact, a place where children feel safe to learn and teachers feel safe to teach.
School safety audits provided by Edu-Safe are complete and thorough. The assessments are designed within the parameters set by the school in conjunction with professional standards. The following components will be evaluated.
Safety and security of building and grounds
Development and enforcement of policies and handbooks
Procedures for data collection
Level of staff development
Development of intervention and prevention plans
Opportunities for student involvement
Level of parent and community involvement
Development of crisis management plans
Standards for safety and security personnel